In which our heroine admits to hoarding
A quick explanation for those of you not in the book business: a galley or ARC (advanced reader copy) is a bound copy of a book whose publication is forthcoming. These are sent to reviewers, bloggers, booksellers, etc. for the purpose of reading and reviewing prior to publication, to generate the ever sought after "buzz."
On my very first day as a bookseller, I was taken to our regional tradeshow; this is like a conference for booksellers, which means it's better than any corporate conference you may have had the misfortune to attend—because there are books. Most (all?) tradeshows have a tradeshow floor where publishers set up tables and upon those tables they stack next season's galleys. I walked into this room, turned to my fellow co-worker (whom I'd just met and who'd been in the business for years) and said, "do you mean to tell me that all of these books are FREE?" Probably she responded by telling me to pace myself, but I was already halfway across the room with a maniacal grin pasted on my face.
And on that day, I decided bookselling was the only career for me. (TIP: If you're a bookstore owner looking to create career booksellers, bring them to a tradeshow; it's not just the free books, but the conversations they'll have with other booksellers and the wider scope they'll gain of the book industry.)
If I really like a book I've read in galleys, I generally donate the galley and buy the paperback copy once it's available (a few notable exceptions being signed galleys and paperback releases with terrible covers). When moving, galleys are the first to be culled. They are temporary. If you haven't read it yet, will you? If you will, will it be before the paperback comes out and you can just purchase a copy and support the author?
Since becoming a bookseller, I've moved five times. Many galleys have gotten left behind (aka donated). In my last move, the pile of galleys I kept had to be significantly smaller than the pile I donated. Despite this, I have a few galleys that are surprisingly old. Galleys that I have not read. This is their story.
---
Published in August 2017, this galley has lived in at least three apartments. It's published by Big Mouth Press, the children's arm of Small Beer Press (which, if you're new here, you may not know I'm a big fan of). A friend whose opinion I trust read and loved it. And if those two factors weren't enough, it begins with the sentence "So far magic school is total rubbish." In Other Lands follows main character Elliott through four years of magic school. It uses magic and the fantastic to illustrate the trial and error that is coming-of-age. Why haven't I read this yet? No good reason.
Published in January 2017, this galley has lived in four apartments. I picked this one up for the cover. It's by artist Lee Price, who paints (among other things) aerial views of herself eating and surrounded by food in bed or in the tub. I can't quite explain why I love these paintings, except to say I've always had an odd fascination with both bathrooms and food imagery.
Oh, but we were talking about the book. It's a short story collection… about women, I assume. Helen Ellis compares reading it to drinking an Old Fashioned:
It's strong with a sweet burn, and after each taste you immediately want more
I don't really like Old Fashioneds, but I do think I'll like this book.
Published in June 2014, this is by far the oldest unread galley I own. It moved across the country with me, and then into three other apartments. It almost didn't survive my last move. It seemed ridiculous to continue carting around this unread galley—just buy the book! But by the same token, it seemed ridiculous to give up on it after all this time.
I think one phrase from the jacket copy has kept this book on my shelves:
A forest of mother-trees
What is this image that blends two of my favorite literary topics, mothers and trees?
It's slim, it's dark, it's mythic. It's really a wonder I still haven't read this.
---
Currently Reading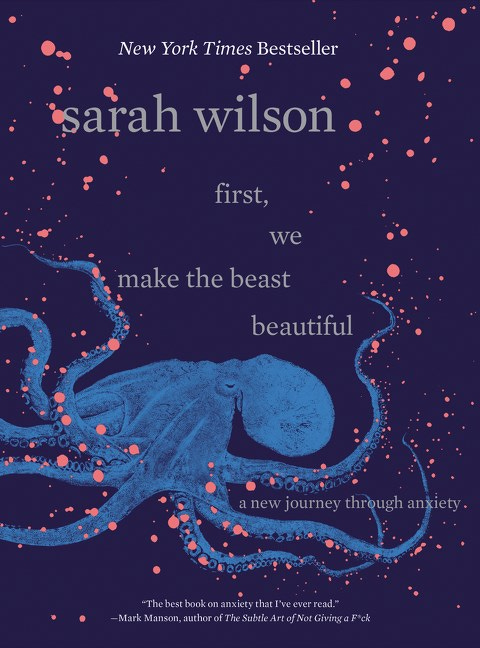 Another book whose cover immediately attracted me (and it's paper-over-board!). It's an exploration of anxiety, a one-woman search for the how and why and what to do about it. Although I have not had debilitating anxiety for a couple months, low grade anxiety is a constant in my life, probably in yours too. Our society lauds those who work themselves to the bone, those who are always producing and consuming. It is hard to disentangle from that. Even a lot of self help books are trying to sell you something. Sarah Wilson is not. She is not trying to cure, she is trying to maintain, which makes me think of a line from How to Do Nothing by Jenny Odell: "maintenance as productivity."
---
Other Ways to Find Me On the Internets
I host a podcast called Drunk Booksellers where my best friend and I interview a fellow bookseller while drinking. I sometimes tweet about books and politics. I sometimes post pictures of books I'm reading, or cats I'm hanging out with on Instagram.
Subscribe to this newsletter here.