In which our heroine has a realization
In my line of work, you get asked what books you like to read quite frequently. Having a stock answer makes life simpler. "I like weird short story collections—Stranger Things Happen by Kelly Link, Her Body and Other Parties by Carmen Maria Machado, What It Means When a Man Falls From the Sky by Lesley Nneka Arimah."
But here's the thing, it's been nearly a year since I read a short story collection. That's just been my line since graduating college and entering the world of bookselling; I haven't modified or re-examined it since. It's still true, of course, but the job is such that I've branched out, delved into other styles/genres/forms. I've since picked up a love of essay collections—mostly written by women around my age, probably because a part of me wishes to write one. Then of course there are comics—I run and buy for that section of the store. And there's the genre of books that land in the middle of a three-way Venn diagram of business/self help/psychology, which I seem to be all about lately.
Yes, yes, our tastes change and grow as we change and grow. Great, unsurprising, what is my point?
There is a genre/form that I have avoided for some time: the sci-fi/fantasy series.
Ugh, series! Who has the time? I need my reading to be varied and disparate in order to better recommend books. I can't get caught up in a single story that goes on for four, ten volumes! I like short stories for a reason!
Well, friends, somehow I have fallen head over heels for sci-fi/fantasy series and I am ready to stop denying it. I mean, I grew up alongside Harry Potter so I'm not sure how I convinced myself that series no longer interested me. Brains are weird. But the realization that I was living a lie began with Fire Logic by Laurie J. Marks, which I devoured. I waited too long to begin the second book, Earth Logic, and felt a thrill of warmth and recognition once I stepped back into that world— I was metaphorically wrapped in a thick blanket, set down by a fire, surrounded by friends whom I hadn't seen in too long. So I said to myself, well, this series is special, but I won't make a habit of it.
And then my book club decided to read The Fifth Season. Great, I'd been vaguely meaning to pick it up—everyone talks about how good it is. But probably I'd stop there.
And yet.
At about fifty pages in I was almost mad, no, I was genuinely irritated with myself for waiting so long to read this book.
THE FIFTH SEASON IS SO GOOD. I KNOW I'M REALLY LATE TO THE PARTY. I'M SORRY I'M YELLING, BUT IF YOU'RE LIKE ME YOU REALLY OUGHT TO READ IT NOW, RIGHT NOW—ABANDON THIS NEWSLETTER AND GO BUY (OR BORROW) THAT BOOK.
I'm like really late to the party. It's fine. I got here eventually, and now my understanding of my reading tastes has fundamentally changed. I love series! The best word I can come up with for how both the Elemental Logic and Broken Earth series have made me feel is engulfed. I guess it's due to the world-building and character development that shorter works can't afford to spend time on. I love having no idea what's going on and just picking up clues and meeting new people as we wend our way through a thrilling and baffling world.
Naturally (I have an obsessive personality) I am now interested in finding more series and chasing this new high which I hope never exhausts itself. So, a few sci-fi/fantasy series I hope to one day read:
---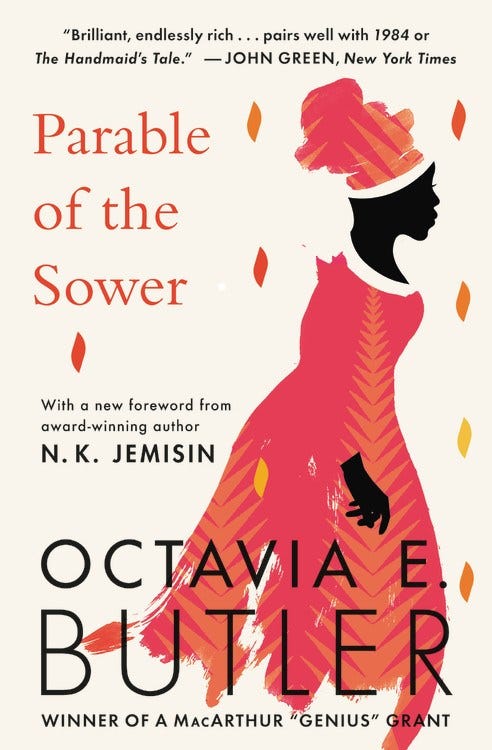 I haven't read Octavia Butler, um, at all. I feel like this isn't something I should admit to, but at the same time I'm very much about no-guilt reading habits. When it comes to other people. Parable of the Sower—and I'm going off internet descriptions here because I somehow know literally nothing about it—seems eerily prescient and thus either perfect or terrible reading right now. To wit, the description begins "When global climate change and economic crises lead to social chaos in the early 2020s…" It's not all about escapism, folks! (Seriously, how did she know?)
I suspect I will have a similar reaction to this book as I did to The Fifth Season—frustration that it's taken me so long to pick it up. Well, I did try, three years ago on a plane to Seattle. Turns out it's hard to concentrate when you're moving across the country. (Weird, right?) But a "sociopolitcal space opera" (NPR) sounds like exactly the kind of series I apparently love.
Lauren, I'm sorry, I don't remember what this trilogy is about, but you sold me on it once and that's all that matters; it's high on my list. I remember philosophy, political intrigue, and I wouldn't be surprised if there's something reasearch-y or academic in it too. According to Max Gladstone, the second in the series "veers expertly between love, murder, mayhem, parenthood, theology, and high politics." Yes! Apparently I'm really fascinated by sci-fi/fantasy politics. (Send me your recs.)
I have been trying to find something as magically satisfying as Harry Potter since 2007. Could A Darker Shade of Magic be it? To be honest, Harry Potter isn't as satisfying as it used to be. (Sam and I have been reading the series aloud, and have been stuck on Order of the Phoenix for months.) I'm looking for a magic world where men/boys don't suck (I'm looking at you, Quentin Coldwater). Yeah, I said it, Harry and Ron are awful. Anyway, we're talking about Shades of Magic, which, actually, I know nothing about. There are two realities, one with magic and one without. Maybe there's a murder involved? Doesn't matter. I devoured Vicious by V.E. Schwab—kind of a making-of-the-superhero story that turns your perception of good/evil on its head, which I love—so I trust her to write a solid fantasy series.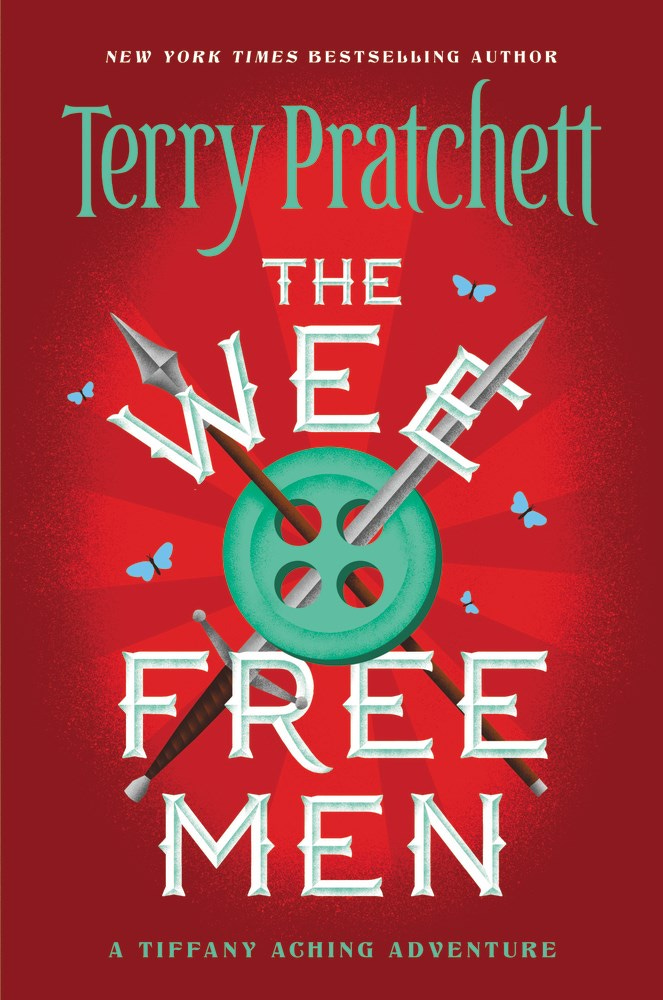 I feel a bit trepidatious even including this on the list. Do you know how many books comprise the Discworld series? Yeah, me neither. I think we can both agree it's a lot. There are so many that there is a subseries—at least just one that I know of—the Tiffany Aching series. I think I'll hone in on that. She is a witch in-training. Right up my alley.
---
Currently Reading
Yes, I purposefully started another series. Admittedly, I may be overdoing it here. I am now actively in the reading three series (four, if you count the Harry Potter re-read). I am the kid who has just been fed candy for the first time and is now five minutes from a sugar coma. But I can't help it! The Obelisk Gate on audio has a four week wait at the library and I finished The Fifth Season over my weekend—so I didn't want to head to work for book two. Anyway, I planned to clean the whole apartment on Saturday and I needed an audiobook to motivate me. So I started—and finished—Every Heart a Doorway and then I thought, why not get halfway through book two?
Anyway, I like it. The premise is: what is it like to re-enter "reality" when you've been living in a "fantasy" world? How do these children cope with this wrenching experience? It's also a murder mystery. (Experiencing magic and being forced back to "reality" would probably make me a bit murderous too. Just speculating.)
On Deck
At the risk of drowning myself in a deluge of series, I ask you: what should I read next? (After I finish The Broken Earth and Elemental Logic series.)
---
Other Ways to Find Me On the Internets
I host a podcast called Drunk Booksellers where my best friend and I interview a fellow bookseller while drinking. I sometimes tweet about books and politics. I sometimes post pictures of books I'm reading, or cats I'm hanging out with on Instagram.
Subscribe to this newsletter here.