In which our heroine is immediately intrigued
I genuinely want to read the three books in today's issue. Which isn't to say that's not always the case, but it is especially so this week. Each book drew me in quickly and did not disappoint as I explored further. And yet. I have been struggling with not having enough time and/or spending my time wisely—always I struggle with this, but these last few weeks it's been at the forefront of my mind. Which books do I prioritize? Not that one, it doesn't need my help. Not that one either, it's backlist. (Ah, this pernicious thought again. I can sing the merits of older titles for hours, but publishers and reps are asking me about the new books they're publishing: have I read them, can I nominate them for the Indie Next award? I think a strong backlist, and knowledge of it, is critical to a healthy bookstore, but I can't help the niggling thought that I need to prioritize frontlist.)
I know this is ridiculous, but I still haven't come to terms with the fact that there will never be enough time to read all the books I want to read. It would be awful to no longer have books I want to read, to have finished and enjoyed them all, but it also feels awful to miss out on so many books.
All of which is to say, I'm one trip to the bookstore away from buying the books below, but even then I may never read them.
---
Wish I Were Reading
I pulled this out of a box today and was immediately intrigued by the cover. Who wouldn't be. It is simple but effective; this cover screams. And oh, it's about feminist artists. I've always mourned my lack of artistic talent—not enough to spend time and energy developing artistic skill, but enough to make me wistful and interested in art.
I flipped through the book and already found two artists I'd like to learn more about. Miriam Schapiro created a doll's house that "had a variety of contrasting rooms to allude to the complexity of being a woman: mother, lover, nanny, cleaner, artist."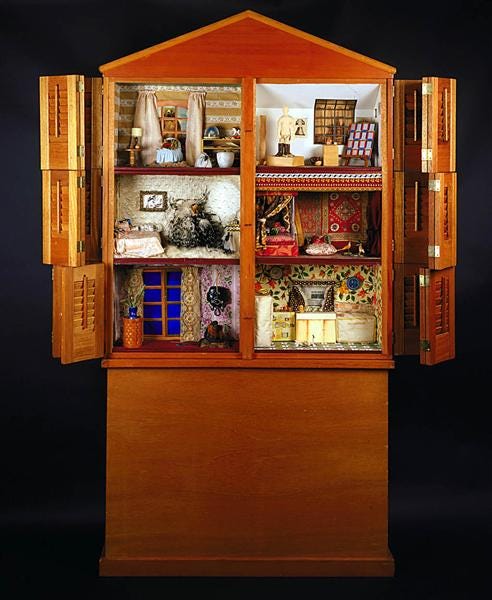 Laurie Simmons photographs dolls as well. "Simmons questions the role of the woman in the home and contrasts the projected perfection of advertised domestic bliss with the mundanity and isolation many experienced." The picture below, New Kitchen/ Aerial View/ Seated, 1979, is from her series "Early Color Interiors."
I love doll houses and am fascinated by art that elevates the domestic, the craft, the traditionally female sphere to an art form. I want to read this book and then I want to visit the art exhibit inspired by it—which doesn't exist, yet, as far as I'm aware; someone should get on that.
I found this book while searching for space in our Craft - Fashion section. What intrigued me here is a view of New York during a time when I didn't actually live there by someone who I assume is close to my age. Like art, fashion is a world I'm interested in but not involved in at all. I mean, I wear clothing, but I recognize there are so many more layers to it. And this book seems to have a wider scope—though I'd be happy to read an entire book about fashion in New York in the 2010s—I think it's more an exploration of being a young woman during this decade, when there is such a focus on personal brands and social media.
From the book, on MeToo:
I didn't feel empowered; I only felt more hopeless. I wanted to watch the patriarchy go up in flames, but I wasn't excited about what was being pitched to replace it. If we got all of it out in the open, what would we have left? My fear was that guilt would destroy the classics and there'd be no one left to fuck. All movies would be as low-budget and as puritanical as the stuff they play on Lifetime, all of New York would look like a Target ad, every book or article would be a cathartic tell-all, and I'd be sexually frustrated but too ashamed to hook up with assholes, or even to watch porn.
I almost bought this as soon as I saw it, but I'm well aware that as soon as a book comes home with me it ends up on the shelf and immediately loses its magnetism.
My friend Caitlin was reading this when we met in a bar (hence the terrible picture) and I was immediately intrigued. Wait, I've used that phrase already haven't I? Well, I was; I trust her judgment and the blurbs are doing their job and working overtime. The Guardian says
A hint of Lynch, a touch of Ferrante, the cruel absurdity of Antonin Artaud, the fierce candour of Anaïs Nin, the stylish languor of a Lana del Rey song... Moskovich writes sentences that lilt and slink, her plots developing as a slow seduction and then clouding like a smoke-filled room.
What is it about? I'm still not sure; it's definitely queer and surreal, some sort of coming-of-age, and it takes place in Prague, Wisconsin, and then Boston in the 90s.
It's out January 14th but you can pre-order it now from my local indie (or yours).
---
Next Up
My co-worker read and loved this book; she gave me a galley, and I really meant to read it right away, but that was a couple months ago. Then yesterday I read an article that mentioned it, "The Problem With Crime Junkie" (which I read because it was featured in Zig Zag's newsletter) and decided it had to move up on the pile. As I understand, it's about our current cultural fascination with true crime, in particular women's fascination. This is a fascination I am fascinated by. There are a lot of popular true crime podcasts out there, and, this may be an unpopular opinion, but I am wary of them as they seem to fetishize what was a very real and traumatic experience. I'm curious to read Monroe's take on all that and more.
---
Featured Bookstore
Each week, I link all books to a specific store. This week I'm featuring The Elliott Bay Book Company, aka the store that currently employs me. As an entirely objective party, I think they are an excellent bookstore with a very fine frontlist receiver.
Other Ways to Find Me On the Internets
I host a podcast called Drunk Booksellers where my best friend and I interview a fellow bookseller while drinking. I sometimes tweet about books and politics. I sometimes post pictures of books I'm reading, or cats I'm hanging out with on Instagram.
Subscribe to this newsletter here.